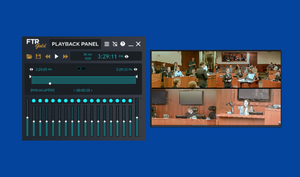 FTR Player 7.7 Download
Suitable for:
Windows 10 32-bit & 64-bit
Windows 11
Windows Server 2022
Summary
As the justice system shifts towards a hybrid model, FTR Player has been enhanced to better support more users working remotely. 
Version 7.7 offers industry-leading court record playback, allowing for total control of audio and video channels to facilitate efficient and accurate transcription of digital court recordings. 
New/Updated Features from 7.6
Added support for FTR Player and foot control with Windows 11 22H2



Issues Addressed from 7.6
Addresses an issue in FTR Player where inaccessible sealed files on Warehouse Server were shown as public




Addresses an issue in FTR Player to support playback of RD2 files  




Refined an error message in FTR Player related to playing inaccessible files on Warehouse Server 



Key Features in 7.7
Simultaneous 16 audio channel and four video channel view, including channel isolation and individual volume adjustments.

Updates to improve stability, including background buffering, for uninterrupted playback in the event of poor network connectivity and automatic recovery after network dropouts.

Enabled group policy to manage access to recordings.
Automatic detection if the sound card is muted/not installed on starting.
Last video window position, size and mode is remembered upon reopening.
Automatically detects installation on Hyper-V and sets the video renderer accordingly to playback multi-channel video recordings.

Reduced search and load times in FTR Player during remote monitoring.

Support for Windows 11 and Windows Server 2022. 

Includes usability improvements during periods of poor network connectivity.
Please visit the Product Updates page on our website to download the latest updates for FTR Player. 
Help Guides
Download 7.7 Quick Reference Guide
RECORDING APPLICATION

WINDOWS APPLICATION

FTR PLAYER VERSION REQUIRED

FTR Gold 5.6.2 
(or below)

Windows XP

FTR Gold 5.7.0 (or above)

Windows XP

There is no FTR Player compatible


All


Windows 7


FTR Player 6 (or higher)


All

Windows 10

Windows 11

Windows Server 2022


FTR Player 7.0 (or higher)


Loading FTR .TRM Files
When you receive recordings made on an FTR system from a court, you will generally receive a number of .TRM files; FTR records in 5 minute blocks to simplify distribution of content, so you should see a number of files with ".TRM" after the file name (12 .TRM files make up approximately 1 hour of audio).  
To start playback, open FTR Player and click the 

Open

 button

 

Click the manage search folders button and add a search folder to the content you want to play or click the 

Other…

 button and navigate to the folder the recordings are in and select all the files you want to play. 

 

Clicking 'Open' will start the audio playing in FTR Player. Please see the 

user guide here

 for more information.

 
In addition to .TRM media files, FTR Player opens standard media file types such as WMV, MP3, WAV, AVI, MPG, BWF, WMA and ASF and also integrates with FTR Log Notes for a complete playback experience in production or review.