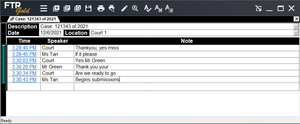 FTR Gold Annotation Suite (Version 7)
Regular price $165.00 USD + Tax Sale
Efficiently play back, annotate, and manage the digital record after it has been recorded with For The Record's suite of annotation software.

With simultaneous playback of 16-channel high-fidelity audio and 4-channel HD video recordings from non-IP sources, FTR Gold Annotation Suite delivers clear sound and vision for accurate transcription, review, or appeal—or as a backup for court reporters.

FTR Annotation Suite Version 7 provides seamless, uninterrupted access and playback with improvements to FTR Player and FTR Manager usability, even during poor network connectivity. The latest version introduces the capability to convert Zoom recordings from .m4a to .trm format in FTR Manager and adds a number of functionality updates, including departmental support for all import tasks and new ingestion features in FTR Manager. 

FTR Annotation Suite can also log important events, create quick notes, and insert time stamps as reminders for information such as appearances, spellings, and key terminology. Advanced features allow users to manage the record by exporting to other file formats and marking segments as confidential or sealed. The latest version adds a timeout to log sheet searching functionality within FTR Log Notes.


FTR Gold Annotation Suite takes the guesswork out of locating, annotating, and managing critical moments for playback and transcription.
Includes FTR Player, Log Notes, and Manager
Suitable for Windows 10 and Windows 11
Please visit the product updates page on our website to download the latest updates for FTR Annotation Suite.  
Please note:
THIS PRODUCT CAN'T BE USED TO RECORD

Software sold on the FTR Store is for machine-license only. If you require five licenses or more, please email sales@fortherecord.com.
License activation is required within 14 days.