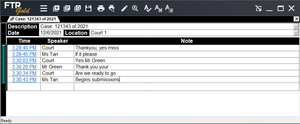 FTR Gold Annotation Suite (Version 7)
Regular price $165.00 USD + Tax Sale
Efficiently playback, annotate, and manage the digital record, after it has been recorded.
Includes FTR Player, Log Notes, and Manager
Suitable for Windows 10 and Windows 11
FTR Player allows control of each audio and video channel, including channel isolation, playback speed, and volumes to easily differentiate who is speaking and identify every word. User-defined global keyboard shortcuts and customizable foot control switches offers additional ease-of-use.

Version 7 adds a range of improvements including simultaneous 16 audio channel and four video channel view, background buffering for uninterrupted playback during poor network connectivity, and automatic detection if the sound card is muted/not installed on starting.

FTR Log Notes takes the guess work out of recalling and locating critical moments for playback by logging important events, creating quick notes, and inserting time stamps for information such as appearances, spellings and key terminology – and linking each to a precise place in the recording.

Version 7 now exports system information to a single zip file (rather than a directory of files).

FTR Manager provides access to advanced features to manage the record by exporting to other file formats, saving FTR recordings to DVD, and marking segments as confidential or "sealed."

Version 7 supports reformatting of .trm files with more than 8 channels.
Please visit the product updates page on our website to download the latest updates for FTR Annotation Suite.  
Please note:
THIS PRODUCT CAN'T BE USED TO RECORD

Software sold on the FTR Store is for machine-license only. If you require five licenses or more, please email sales@fortherecord.com.
License activation is required within 14 days.